Environment
As owners of daycares we know how important it is to have a safe, clean, healthy, and germ-free environment for our children, staff, parents and visitors.
As daycare operators, we are not simply responsible for your children's education. We are equally responsible for their safety and wellbeing. During these unprecedented times of pandemic, cleanliness and personal hygiene – which has always been very important in our establishments – has now become front and center. We understand that no parent wants to have to choose between providing for their family and placing their children at risk. We know that every parent is extremely selective about where they will send their child for early childhood education.
There are obviously many factors that come into play when choosing the right daycare, however, all parents will be deeply concerned about the cleanliness of the facility their children will spend the majority of the day. We have therefore; put in place measures to augment the rigour of our cleaning practices to prevent the spread of the virus should anyone coming into the day care be in contact with it.
Daycares are high traffic environments and it's no secret that they are grounds for bacteria and viruses. We understand that if our facility is not properly cleaned, sanitized and maintained to the highest degree of cleanliness, children, visitors and staff will be at higher risk and germs can be spread quicker throughout classrooms and the daycare.
As such we want our parents and valued customers to know that our establishment has invested in a steam cleaner which contains no harmful chemicals, and makes it easy to eliminate germs and bacteria in an efficient way.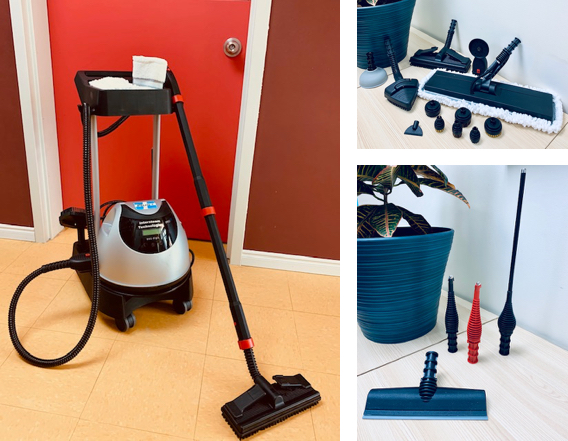 High-powered steam cleaners use only water and heats that water to such a high degree that it can clean and disinfect surfaces.
Steam cleaners can kill up to 99% of bacteria. Steam cleaners are safe to use on virtually any surfaces counters, floors, toys, playmates, cribs, changing surfaces, bathrooms, tables, and anything else.
This is just one way in which we are going the extra mile to keep your children safe.